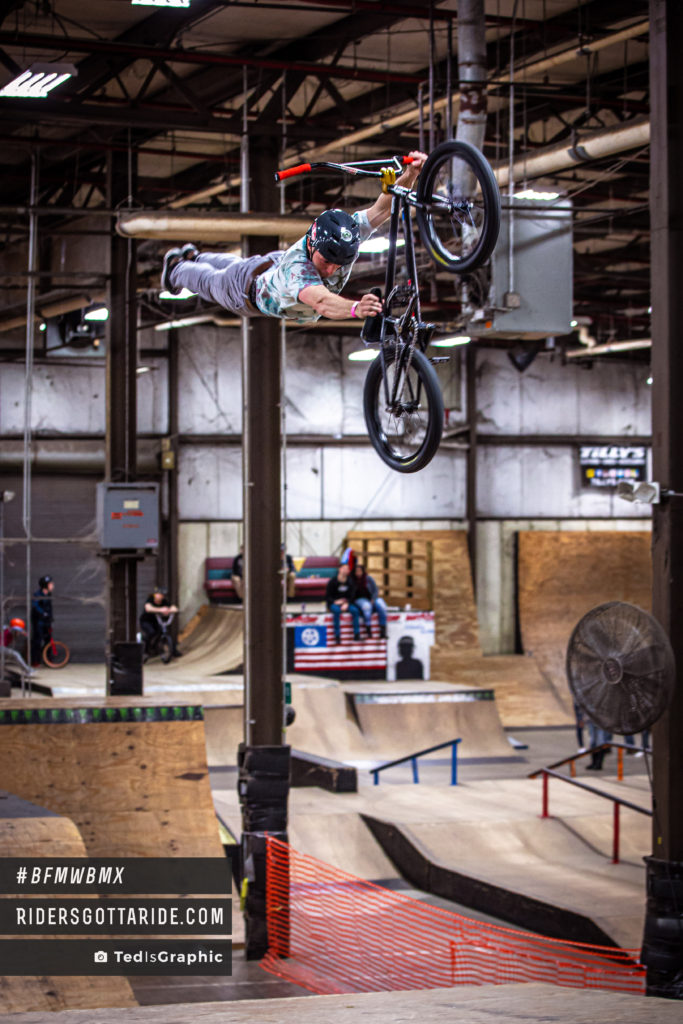 JUDGES
Josh Orr |Brett Banasiewicz |Nate Hecke | Matt Patterson |Jordan Bowen
Words: Rich Hoppe | Photos: Teddy Pieper
The world famous stage was set once again in South Bend, Indiana for the 7th annual "Battle for Midwest BMX" amatuer contest series brought to you by Wonder Wheels BMX and Hoffman Bikes!
The date was 2.22.20 and over 40 riders showed up to stunt in the dead of winter in the park the was built by Brett Banasiewicz and friends. Once notable friend of course was none other than Glenn Salyers. Glenn's Mother Janice was in attendance for the festivities as we began the contest with a moment of silence for our man Glenn Salyers. (Rest in BMX Heaven)
Beginner Class:
The day started out with with the Beginner class which featured the 2 females set to battle with the boys! After two rounds of BMX battles, Ayden Wells from Grainger, Indiana ended up taking a slim 5 point victory over Hailey Robbins for second place. The 3rd place contestant today was Colin White. All of the riders in Beginner Class had the crowd juiced up as they stretched their stuff on the huge course at The Kitchen!
Full Beginner Results:
1. Ayden Wells - 235 PTS   
2. Hailey Robbins - 230 PTS
3. Colin White - 224 PTS
4. Chris Davis - 213 PTS
5. Kaleb Colon - 204 PTS
6. Journie King - 201 PTS
7. Brandon Burris - 198 PTS
Novice Class:
The Novice types had their work cut out after the show put on in the Beginner Class, but it was anybody's guess as who was going to take home the top spot. When all the cards were shown, only Xavier Gonzales had enough to gain the victory in Novice. Followed by Matt Michalski out of Chicago for a super close 2nd place (1 pt). 3rd place went out to the young man named DJ Martin!
 Full Novice Results:
1. Xavier Gonzales 241 PTS
2. Matt Michalski - 240 PTS
3. DJ Martin - 235 PTS
4. Prestyn Penn - 230 PTS
5. Coal Maule - 228 PTS
6. Adoniss Hutcheson - 218 PTS
7. Hailey Robbins - 216 PTS
Expert Class:
The Expert class at the Kitchen is a always a treat for all who happen to be in attendance for an afternoon of BMX. This time around the top 3 worked over the course while tossing out heavy moves during their time on the course. After the dust exists, our friend Chippy Hastert wins the class with a huge smile on his face. Blake Osborn impressed the judges enough to carry himself up the podium to the 2nd place position. And after a two year hiatus from the Battle Series we saw Oliver Foster back on course shredding his way back up to the 3rd spot in Expert.
Side Expert Class Note: Zoa Cross had an accident on his 1st run and was shipped off to the local hospital via ambulance. Zoa suffered a concussion along with a few broken teeth from a Tuck No-Hander gone wrong. He returned later in great spirits.s Wishing you a speedy recovery Zoa!
  Full Expert Results:
1. Chippy Hastert - 273 PTS
2. Blake Oscorn -  271 PTS
3. Oliver Foster - 262 PTS
4. Tyris Yoder - 249 PTS
5. Robin Bosko - 246 PTS
6. Daniel Gongola - 235 PTS
7. Jacob Rorie - 226 PTS
8. Zoa Cross - 10 PTS
9. Zac Schond - 2 PTS
Old Fools:
What more can you say about Old Fools BMX? This photo nearly says it all as a few guys who love to ride bikes get to rip around the Kitchen and win some sweet prizes from the dudes over at Old Fools BMX! In this class you barely had to show up to podium as one rider vaporized during the ramp up to the comp. Scott? Where are you? What a party these dudes on the course and it is always sweet to see some of the old moves on these new courses!
Open Class:
The Open Class was an absolutely epic class to watch absolutely shred the walls off the Kitchen. The power levels were on full tilt as super cannons and bombs were blasting off every ramp in sight. Hank show stopped the place after blasting some heavy runs and topping things off with a Flip-Whip down the infamous Step-down. Joe Weist basically put on a clinic of how to ride the place from super street moves to mind bending box jump moves Joe gets the 2nd. Tyler Hill's runs were super fire as he did transfers around the building that no one else had even thought of.
Hats off to all the riders today who came out to Battle, next Stop is 4 Season Skatepark!