Stop #1 held in the 110,000 sq. ft. playland known as Ray's Bike Park in Milwaukee, Wisconsin is officially in the books!
The day began early with a warm greeting from the staff at Ray's.  The Wisconsin crew is an amazing group of people and I cannot thank them enough for the amazing hospitality they showed us over the course of the entire weekend.  Derek Slates & Jeff Downham run a clean and fun environment, providing a safe place for absolutely anyone to ride a bicycle indoors. Guaranteed to be the most fun you've had in years.
Registration ran from 9am-2pm so we took advantage of this time to indulge and explore the facility.  Which in our terms is Ride it, and ride it hard!  I personally had a blast, my crew of goons also had an amazing experience.  Lyle (Ex-Amish) rode his rental bike so much through-out the day he could barely walk.  When 10$ Bill Livingston wasn't helping out judging, he was on the course with Teddy Pieper (The Battle Series Videographer) doing lap after lap. Before we knew it, the 2pm start time was upon us and we got straight to the business at hand.
Judges:




Andy Hundley - Brandon Hoerres - Chase Pauza - Bill Livingston





Photos:




Josh Olszowka
---
BEGINNER CLASS
With the fluttering of nervous butterflies and anxious 1st timers the show started with the beginner level. As each name was called, one by one, the nerves settled, butterflies dissipated and anticipation set in for that one moment they have been waiting on, the moment to shred the pint-sized jump box line at Ray's!
The competition was heavy, full of ET'S, 1-Footers, and 1-Handers.  Ultimately the judge's decision was based on smoothness, style, bike control, and of course stunts.  Down to the wire we came and when the podium was set Hannah Densow sat atop with Connor Pilon and Tyris Yoder trailing close for 2nd and 3rd places.  The class put on a great show, and it was so nice to see all the smiling young faces having fun out there.
Full Results / Series Results after Round 1 of 5!
Hannah Densow – 10pts
Connor Pilon – 8pts
Tyris Yoder – 7pts
RJ Goldberg – 6pts
Mason Timperley – 5pts
Brinn Kempf – 4pts
Vann Kempf  – 3 pts
Cameran Ryan – 2 pts
Andrew Ploeckelmon – 1pt
Noah Jeager
---
INTERMEDIATE CLASS
The Intermediate crew was next up on the roster for this Saturday action in Milwaukee.  We loaded up the "Expert" jump line and whittled down the class to just 10 Riders.  Their tricks were a step up from the beginner class.  We saw some transfer lines, bar spins, a backflip or two, and many other variations with random limbs being thrown around as the riders flew through the air.  The top place on the podium went to Kyle Groh, followed closely by Riley Busse taking 2nd place. Bryce Gildner ended up taking the 3rd spot.  All the riders put on a fantastic show and we will continue to keep an eye on this bunch as they begin to move up the ladder!
Full Results / Series Results after Round 1 of 5!
Kyle Groh – 10pts
Riley Busse – 8pts
Bryce Gildner – 7pts
Trevor Bigflow – 6pts
Gavin Plumitis – 5pts
Bailey Otis – 4pts
Dominic Polini – 3pts
Will Piontek – 2pts
Zach Krueger – 1pt
Harper Dehate
---
Expert (Rookie of the Year) Class
The expert class was an absolute nightmare to judge, this was definitely one of those times I was glad to be on the mic with Jeff Downham.  The class came out swinging hard for a shot at the prize pack, and a chance to be co-sponsored by RedlineBMX! We ran the entire class and whittled them down to the top 9 for finals.  The crowd was excited to see these talented young bucks come out swinging as we moved through the field.  Not a single rider was there to disappoint!  Dylan Densow & Jared Wiedower were literally within 1.5 points of each other for the win.  The pint-sized shredder with a man size appetite, 12 year-old Keegen Rowley took the 3rd place with clean moves, and as always big transfers!
Full Results / Series Results after Round 1 of 5!
Dylan Densow – 10pts
Jared Wiedower – 8pts
Keegen Rowley – 7pts
Dustin Rick – 6pts
Nico Vanderheyden – 5pts
Tyler Frenzel – 4pts
Kyle Rosink – 3pts
Camden Krivak – 2 pts
Devon Roth – 1pt
---
Old Fools Class / High Jump / Footdown / Best Transfer
OLD FOOLS 35+
The old fools class is always about fun and the opportunity to show the young guns out there that we olds still have some gun powder left when the time comes!  Thanks to everyone who hooted and hollered to support all 7 of our 35+ group in Milwaukee. For those wondering what "bumped MKE" means, it means that I passed the prizes on to the locals for supporting an amazing place to ride some bikes!  Thanks for the fun times Old Fools.
Results
Jon Maglio
Rich Hoppe (Bumped MKE)
Darrin Jaeger
Mike Chamberlain
Rick Goldberg
Darrin Haack
Tracy Ploeckelman
---
Footdown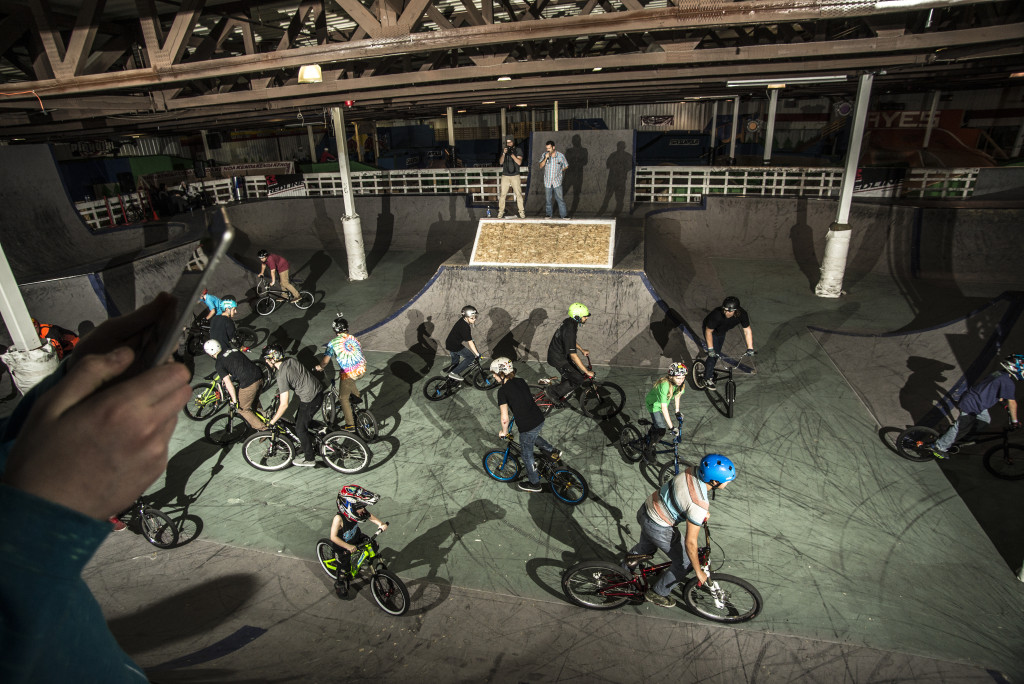 As Bicycle riders we always make the best of our day with a friendly game of foot down.  If you don't know what it is, you don't know what you're missing.  5 Rounds – 5 Winners into a Battle-Off to see who would lay claim to victory!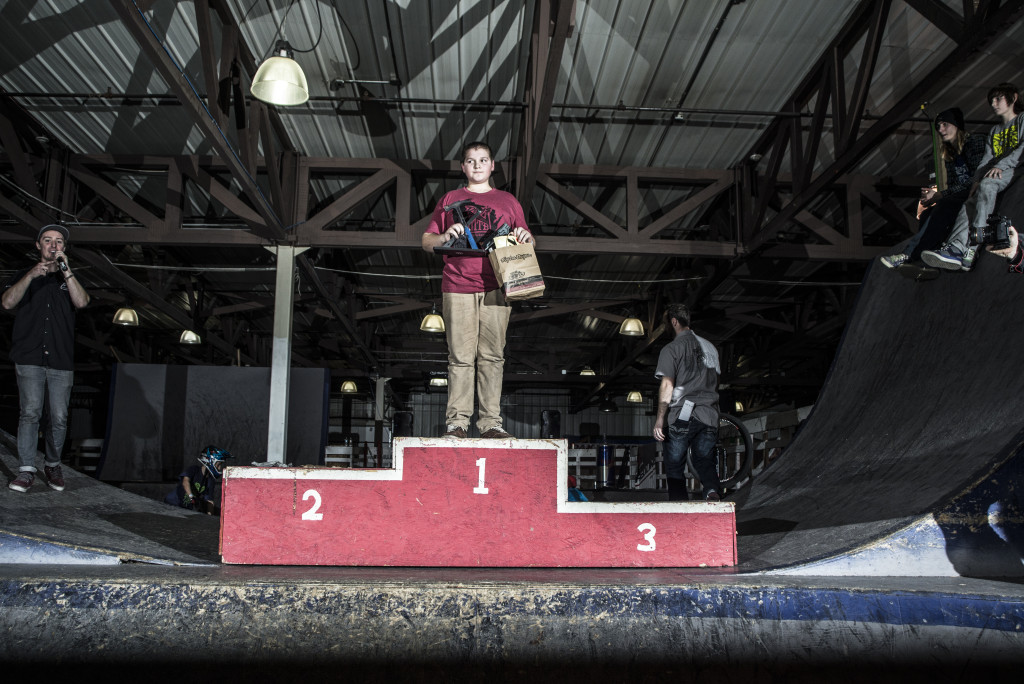 ---
High Jump & Best Transfer – Tyler Frenzel Sweeps Both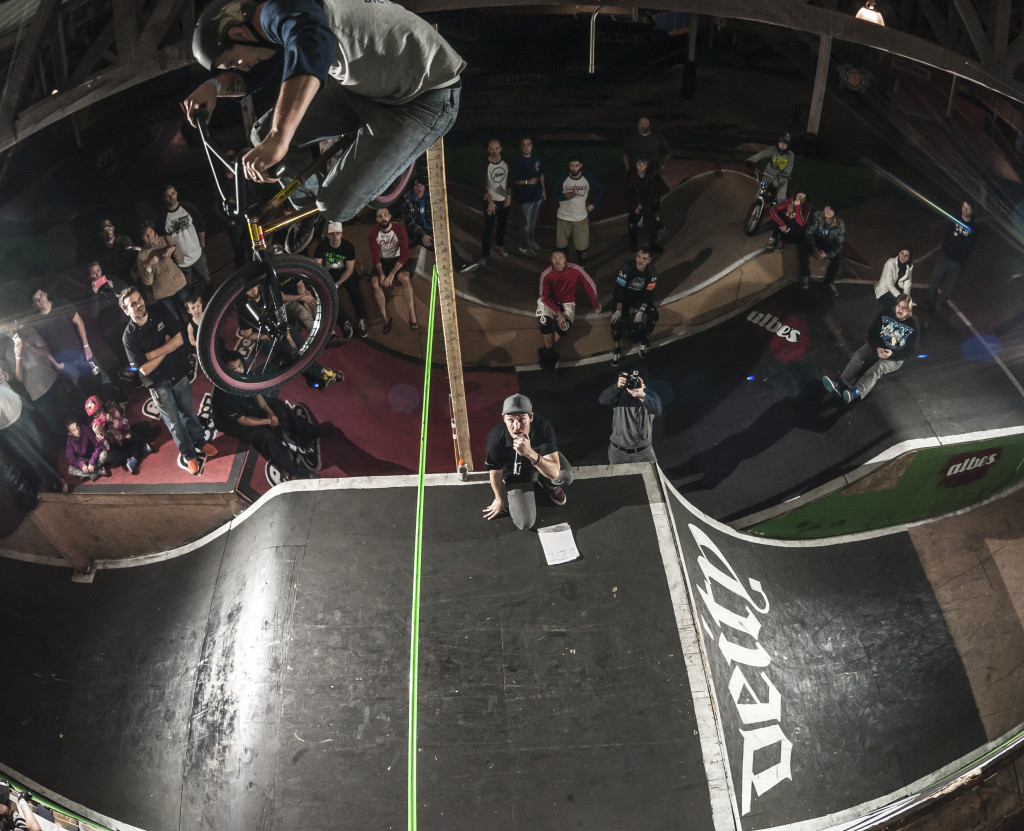 ---
That is a wrap on Stop #1 – Do not forget Cleveland, Ohio at Ray's MTB on Saturday, January 30th
King of Rhythm Pro Contest after a days worth of radical amateurs in the Battle for Midwest BMX
Video still to come from Ray's MKE by Teddy Pieper!